"Earthly Bodies" is a street based artwork in Lady Stairs Close for Edinburgh Arts Festival 2017 by artist Juliana Capes,
"Earthly Bodies" casts the artist in the role of "Pavement Astronomer/Astrologer ":  charting and analysing the chewing gum constellations of the city.  Beginning from an activity of looking for meaning in the outcome of processes that shape the everyday environment, over four days a simple intervention turns a usually unnoticed part of urban human geography into a theatre of wonder and belief.
In collaboration with Edinburgh Writer's Museum this street based artwork will culminate in tour of the installation: a poetic monologue "Fortune for Earthly Bodies" on Saturday 12th August at 3pm.  To book a place please click here
Ensuing artefacts will then be exhibited at the Writer's Museum in Lady Stair's Close for the rest of Edinburgh Art's Festival.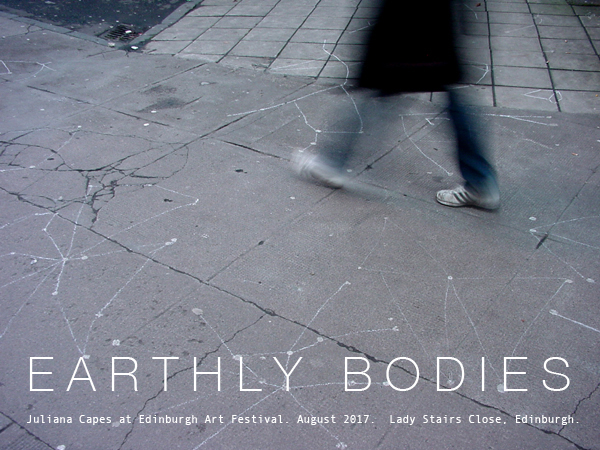 Information
"Earthly Bodies"
Durational street based Artwork
Lady Stairs Close, Lawnmarket, Edinburgh EH1 2PA
9 – 12th August
Open 24 hours (public space)
https://edinburghartfestival.com/whats-on/detail/juliana-capes-earthly-bodies
"Fortune for Earthly Bodies"
Artist's Tour of the installation Earthly Bodies.
Meet at 3pm , 12th August 2017, The Writers' Museum, Lady Stairs House, Lady Stairs Close, Lawnmarket, Edinburgh EH1 2PA .
To book  a place, please use this Eventbrite booking page https://www.eventbrite.com/e/fortune-for-earthly-bodies-tickets-34215471396
"Artefacts  – Earthly Bodies "
13 – 27th August Exhibition of resulting artefacts
The Writers' Museum, Lady Stairs House, Lady Stairs Close, Lawnmarket, Edinburgh EH1 2PA
Wednesday- Saturday: 10am – 5pm
Sunday: 12noon – 5pm
Tel:  0131 529 4901
http://www.edinburghmuseums.org.uk/Venues/The-Writers–Museum